ANNUAL GENERAL MEETING & COMMITTEE NOMINATIONS
Enclosed is notice of the Annual General Meeting of Ski Racing Queensland to be held on Tuesday 7th August 2018
at 7.30 p.m. together with a nomination form for Office Bearers and Directors.
PLEASE NOTE VENUE
FITZY'S LOGANHOLME
BRYANTS ROAD & PACIFIC HWY
LOGANHOLME
Only financial members who have attained the age of 18 years (and are financial) by the close of nominations are eligible to vote or nominate for a position on the Committee.
Directors will be elected at the AGM. Proxy voting is permitted.
Each member shall be entitled to appoint another member as his or her proxy by notice given to the Secretary no later than 48 hours before the time of the meeting.
The notice appointing the proxy shall be on the form enclosed.
Please find below a description on each of the Roles comprising the Ski Racing Queensland Committee.
Chris Williams
SRQ President
Click Here for meeting and voting forms.
Job Descriptions Below;
TITLE EVENT - AMENDED FORMAT
Check out the amended Saturday Format and be sure to get in your entry before 5pm Wednesday 30th of May!
If you need a tow or have some free races to tow, let us know so we can have as many in the water as possible.
Click Here for event forms.
TITLE EVENT - GRAFTON
SAVE THE DATE! June 9 & 10 for the Titles event now to be held in Grafton at 2 locations! Saturday at Corcoran Park and Sunday out at Crown Hotel.
There will be a jam packed format so be sure to come along.
Save the date and register your entry.
Click Here for event forms.
SRQ President Steps Down
It's with a heavy heart we see our dedicated SRQ President Michael Souwer step down from his duties for health and personal reasons.
Chris Williams will be acting SRQ President until our next President is elected post committee meeting in August. Chris can be contacted on email - president@skiracingqueensland.com.au or 0422 611 625.
We thank Michael sincerely for his hard work as a fantastic president and wish good health to him in future. Michael you will be very missed.
SRQ Round 3 - Moogerah - April 28 & 29
Event info and entry forms are now available for our round SRQ Round 3 at Moogerah in April. Same fun format as Bundy in March so book in and come racing!
Forms HERE
SRQ Training Day!
SRQ committee are excited to announce a fun filled Training Day at John Siganto Park on the Gold Coast on April 22nd. We encourage new skiers of all ages plus current skiers, teams, families and supporters to come along to learn or fine tune skills from some of the legends of the sport. We will have SRQ member boats and some ski equipment for newbies to use.
Learn how to wrap handles, start procedures, race and social ski postures and stance, rope and ski maintenance, learning to ride Freeboard, Single Finless skis, Plank and Disc to improve skills and balance plus more!
If you have any questions or want tips, come and chat to some of the most experienced skiers around.
Please come along for a fun training day to ensure this great sport is passed on to new skiers and generations.
Check out the event information HERE and register your interest today!
From the SRQ President
Happy New Year One and All SRQ and also BRSC members.
I hope everyone had a great Festive Season and now look forward to 2018.
* At the recent SRA Board meeting we were given a XMAS present which our SRA delegate Andrew Weekes forwarded to the committee.
It reads as follows:
'The board has granted your request to amalgamate the 2 regions of Qld and BRSC for the balance of the season to see if that move can attract more numbers to the SRQ series days'.
To clarify further Andrew says:
BRSC and Qld Regional members can now compete at each other's series days/ point scores only – No State Titles No majors – this is a tempera measure at this stage to see if it would bolster the numbers at local series days.
There is no change to 'Back to Racing' Memberships.
* I am sure we are all deeply saddened by the passing of young Blake Tickell at Wyangala Dam on Saturday 7th December and offer our condolences to Darren, Simone and Cody Tickle.
From this the SRA Board at their meeting on the 12th December considered and unanimously ratified Speed Limits which can be viewed on the SRA Web site.
The Board also asked for members consideration and patience of these new rules facilitation.
* An update on the SRQ year – Rikki has just lodged the applications for our next event at Bundaberg on 17th and 18th March.
This event will have the same Format as the recent very successful event at Moogerah. We will now also make the event on 29th April the same Format and thinking further to this we will be making these 3 Events a Series where we will allocate Prizes for the best results/performances over the 3 Events.
As we really are running the events as Race Training Events, the prizes will be awarded to the Best Performer which doesn't necessarily mean the winner. Some Competitors might have finished the first event at Moogerah in last place but improved to get a podium finish at the last event in April. The more time on water will help those results.
SO the committee will judge this accordingly and allocate prizes from there.
If anyone wants to make suggestions regarding this format or anything else regarding SRQ's management or future plans please come along to our Next General Meeting on 23rd January.
Safe Skiing
Michael
Round 2 - Bundaberg
Event information and forms now available here
Due to the success and fun had by all at Round 1, we will keep a similar format and also adjust classes on the day to fit everyone in.
Please either book in as early as possible or email/call through your expression of interest so we know what numbers to expect. We do need numbers to go ahead with these events.
Thanks again to those who have been supporting these events, we hope to get more and more along to each event.
Happy New Year!
From all at SRQ we hope you all had a great Christmas and New Year and ready for a fun year of ski racing ahead!
Round 1 Moogerah a huge success!
A big thank you to all who participated and helped with our first round of the series! The format proved to be great fun and a big success so we will continue with similar formats for round 2.
Moogerah October Cancelled!
It is great regret that we have to confirm the cancellation of this weekends 2 day event at Moogerah.
The SRQ committee are working with SRA on your requests to various changes for the future of Ski Racing in Queensland.
You will be notified in time for the Series Day in December of changes to help get you all out racing with us.
We are sorry and hope to see you all out racing in December at Moogerah.
Moogerah in December!
Moogerah is on in December! The weekend of the 2nd & 3rd so lock it into the calendars and get ready for a fun weekend of racing and fun events!
Event info & Forms HERE
2017/2018 General Meeting Dates
10th October 2017
23rd January 2018
10th April 2018
5th June 2018
AGM 7th August 2018
All Members are welcome to attend and are encouraged to, we want to know your thoughts and ideas for your/our racing season and experience. If you're unable to make it and have ideas and input to contribute then please do email srqentries@hotmail.com
2017/2018 Season off to an exciting start!
With our first round of the SRQ racing calendar just around the corner in August, organisation is in full swing! Plus some exciting new events and formats for our second round in October at Moogerah, with FUN in mind we will have mixed 2 Up Races, Pursuit Races, a Marathon and more!
We also encourage new and interested skiers to please come along for Come & Try events, it's important this great sport continues well into the future.
Be sure to book in early and be in on the action and fun times in 2017/2018!
CHEAP RACING AGAIN! Race Fees have been kept at $100 for individulas or Families again in 2017/2018!
Race Entitlement Forms must be completed before competing - Click Here to download form and submit before your first event.
See our Forms page for Event information and Entry Forms
See you at the races soon!
AGM Date Alteration
Due to quite a few Qld competitors heading off to the World Titles this month and also needing to obtain agreement by our team as to our structure and and plan for the next season well before we start at Rocky in August, we have bought forward our AGM to July 19th.
We invite all members to come along to have important input into next season. If you're unable to make it, your thoughts and input can be emailed to srqentries@hotmail.com
RACE ENTITELMENT FEES - BUNDABERG - JUNE 10 / 11
If you've not already registered for racing in the 2016/2017 season there is an affordable option for you to register and race at Bundaberg in June!
Single competitor (Skier, Driver or Observer) = $40.00
Family (described as per SRA Rule Book) = $60.00
For anyone that paid their SRQ Race Entitlement fee ($100) last weekend at Moogerah we will offer a 20% discount to next Season's fee if you enter this Bundy State Challenge in two weeks time.
REGISTER AND ENTER TODAY!
Race Entitlement Form - Click Here
Bundaberg Event Forms - Click Here
MOOGERAH - May 28 - A Great Day!
Thank you from the SRQ Committee to LMWSZ club for allowing us to use their wonderful Club Area, the LMWSZ members (Eloise, Jan Ros & Jeff) that put on a great barbecue all day as a fund raiser for Mt Ommaney Special School, Edwina and Peter Best for being our Judges, Timekeepers Trish & Deb, Sharon & Maurice Thomas for the wonderful Smorgasbord dinner Saturday night, Noddy Woodrow, Chris Williams and their team of helpers, DK, Mick, Russ and Mark. Plus last but not least Gerry and Jason for use of your Boats, without your support we couldn't have managed the day. JOB well done!
Great to see new COME & TRY Competitors – Amy, Will and Jessica. You all gave it a big effort and have lots of potential. Look forward to seeing you next season.
RESULTS - Click Here
2017/2018 SEASON DATES RELEASED!
August 12 & 13 2017 - King of the Fitzroy
October 14 2017 - Moogerah or Somerset
December 2 & 3 2017 - Moogerah or Somerset
March 17 & 18 2018 - Bundaberg
April 29 2018 - Moogerah or Somerset
June 9 & 10 2018 - Bundaberg
CLICK HERE to download event information and entry forms
SIGN UP TO OUR MAILING LIST!
Dont miss out on event notices and information. Send through your email address to srqentries@hotmail.com
NEW EVENT TO BE ANNOUNCED SOON!
Due to the cyclone in Queensland earlier in the year we unfortunately had to cancel our King of The Fitzroy event. So watch this space for a replacement event.
SRQ STATE CHALLENGE - BUNDABERG
Sign up to make this one hell of an event up in Bundy. Classes for all skiers
June 10 & 11, 2017
For all round Information and Entry Details please Click Here
MOOGERAH SERIES DAY
Set to be a fun series day in May, so enter today and we will see you there!
May 28, 2017
For all round Information and Entry Details please Click Here
KING OF THE FITZROY - CANCELLED DUE TO CYCLONE
Easter Weekend event at Rockhampton!
April 15 & 16, 2017
For all round Information and Entry Details please Click Here
BATTLE OF THE BURNETT - REVIVED!

SRQ and the Sandy Hook Ski Club are excited to present the Battle of the Burnett - Revived!
January 14 & 15, 2017
For all round Information and Entry Details please Click Here
SRQ - GENERAL MEETING
SRQ next General Meeting will be on Tuesday Feb 21st from 6:30pm at East Coast Truck Sales for all those wishing to attend.
The following meeting is scheduled for 9th of May 2017.
SRQ - THE MOST AFFORDABLE RACING IN THE COUNTRY
After attempting to amalgamate with another region to provide low cost, high fun racing, SRQ has been forced to go alone. Whilst trying to bring together regions to increase the membership and race numbers, unfortunately the other organization were not willing to commit to the cheapest racing available in the country ? and here at SRQ we will not budge on that!
Now that unfortunately we have lost time in our season due to trying to combine our resources, all at SRQ are working overtime to get racing going. Looking at venues including Moogerah Dam, Bundaberg, Lake Kurwongbah (for a new and exciting format of racing), as well as northern centres including Hervey Bay, Rockhampton and Emerald ? things are working at a hectic pace to allow interested members the opportunity to do what we all want to do ? get on the water and race in a safe and controlled environment.
SRQ make a commitment to providing their members with the most affordable racing on the planet ? for just $100 you can race the season with us! SRQ will cover all the other costs!!!!!! This UNBELIEVABLE deal comes with no hidden strings attached ? we just want you to race with us!
As always, if you feel you have ideas, locations or anything that can help us bring this racing to the public, get in touch with a committee member ? our new committee and their contact details are available through our website!
Working hard to provide you with the best quality racing for the lowest price! We dare you to compare the prices elsewhere ? nowhere stacks up!
See you at the races, SRQ.
SRQ WELCOMES NEW COMMITTEE TO DRIVE FORWARD RACING
In the face of surmounting political and financial problems ? SRQ has selected a fresh new committee to forward map the future of our sport in Queensland. With a focus on affordable, family friendly racing, and a push to take racing North of SEQ to allow greater access for Queenslanders, by Queenslanders.
Michael Souwer and Chris Williams will head the committee as President and Vice President respectively. Vowing to work together, they are open to ideas and suggestions ? so if you have ideas or thoughts, please don?t hesitate to contact them.
For full committee memberships, please consult the website for names and contact details.
POINT SCORE 1 - 2016/17 SEASON - ***CANCELLED***
The committee of SRQ wish to advise their decision to cancel the series day scheduled for next Sunday, 14 August 2016. They have advised that once the new season calender is finalised it will be posted online accordingly and with the expected new crews to sign on this year to SRA they felt there isn't sufficient time for everyone to be prepared to race by next weekend.
2016 SRQ ANNUAL GENERAL MEETING ***REMINDER****
Will be held on Thursday 11 August 2016, at East Coast Commercials, Beaudesert Road, Acacia Ridge, commencing at 6.30pm. Please click on the links below for the relevant meeting documentation.
Agenda - General meeting 11 August 2016
2016 AGM committee position nomination form
2016 QUEENSLAND STATE TITLES
A massive thanks goes to all crews and competitors who supported the Titles and travelled from far and wide to attend. To the Stone family and the Big River Ski Lodge for hosting the event and their non-stop help throughout the whole weekend and Brian Shepherd for arranging the stunning photo print trophies for presentation. Also to the SRQ committee and all of the volunteers who helped run the weekend, it couldn't be done without you, many thanks.
Full results available here
The Eloise Anderson Cup - Open Women race winner - Chelsea Blight - Team Mercforce F1, driver Trent Souwer, observer Mick Kelly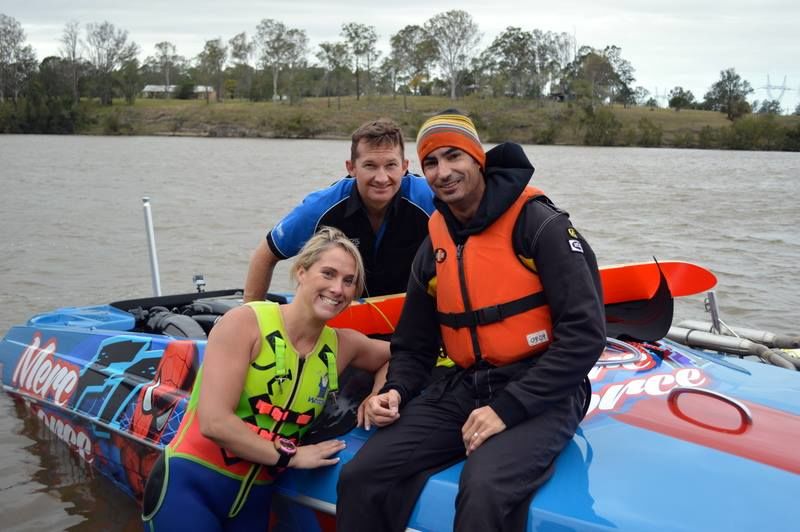 The Wayne Mawer Cup - Open Men race winner - Kris Knights - Team Merc Force, driver Don Gulley, observer Justin Pick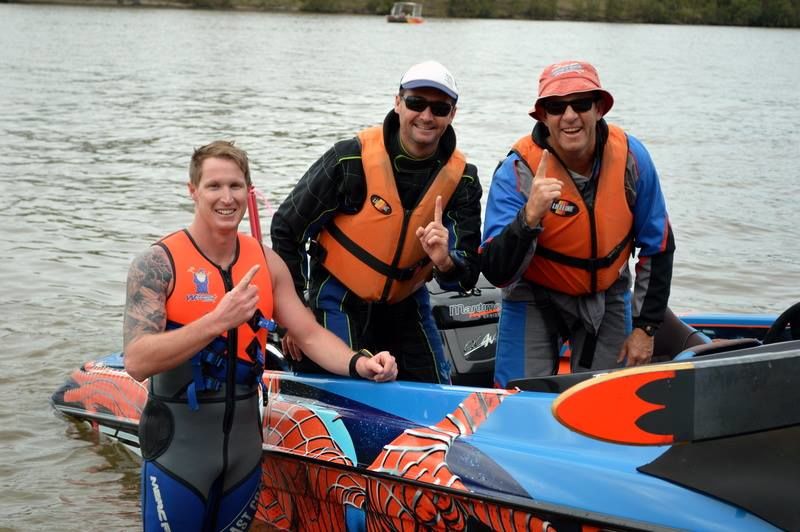 Photos courtesy of Brian Shepherd
SUNDAY NIGHT DINNER AND PRESENTATION INFO - Click here
FOOD, DRINKS AND SNACKS MENU - click here
SOME CHANGES TO THE ENTRY CONDITIONS FROM THE SRQ COMMITTEE:
1. Skiers who enter their age group race are also able to enter the next age group up
2. Under 10's race entry is FREE
STAY TUNED FOR THE FINAL DETAILS ABOUT THE SUNDAY NIGHT DINNER/PRESENTATION TO BE HELD AT BIG RIVER
Will be held at Big River Ski Lodge on the weekend of 11/12 June.
Entries are due by Tuesday 31 May to srqentries@hotmail.com
Please see the attached documents with all of the entry and event information to hand:
2016 Queensland Titles Race Information - click here
2016 - Queensland Titles race format - click here
2016 Queensland Titles Entry form - PDF - click here
2016 Queensland Titles Entry form - Word - click here
SERIES DAY - 15 MAY 2016 - MOOGERAH DAM
Please note the change of original date. Next race will be Sunday 15 May at Moogerah Dam. Entries are due by Monday 11 May to srqentries@hotmail.com
Please note that there will not be a BBQ held by the LMWSZ so please ensure to BYO food and drinks for the day.
APRIL SERIES DAY - 23/24 APRIL - BUNDABERG
Our next series day is coming up later this month at Bundaberg on the weekend of 23/24 April. The entry form and 2 day format is on the Forms page.
If you can please confirm your attendance ASAP to enable the Sandy Hook club to plan accordingly. The canteen will be running during the weekend and we will keep you posted on Saturday night dinner , which will be dependant on the number of teams heading up. Remember it is a long weekend also.
Entries will be closing next Monday, 18 April. Send to srqentries@hotmail.com
MAY SERIES DAY - NOW ON 15 MAY - MOOGERAH DAM
Due to other events clashing with ours, we were requested to review our date for the May series day. This will now be run on Sunday 15 May at Moogerah Dam. I will send out further reminders closer to the time.

QUEENSLAND STATE TITLES - 11/12 JUNE 2016
Entry information will be available shortly. Travis and Helen Stone have kindly arranged for the Sunday night function to be held on site at Big River. That weekend isn?t a public holiday for Queensland so remember to book your day off!
SRQ GENERAL MEETING NOTICE - 18 MAY 2016
Please note this date for our next general meeting
SRQ GENERAL MEETING NOTICE
The next SRQ meeting will be held on Wednesday , 24 February 2016 at East Coast Commercials, commencing at 6.30pm. We hope you can attend.
The next scheduled meeting following this will be on Wednesday, 18 May 2016.
2016 QUEENSLAND STATE TITLES
Please note the venue change. We are still racing in Grafton but the venue will be at the Big River Ski Lodge at Seelands.
For Qld'ers attending, the Monday following the Titles is no longer a Queensland public holiday.
The Titles presentation will be held at the Ski Lodge on the Sunday night after the conclusion of the Titles.
For accommodation bookings head to their website - http://www.bigriverholidaypark.com.au/
More info to come shortly.
NEXT SERIES DAY - SRQ - 31 JANUARY 2016
Is now confirmed at Moogerah Dam on Sunday 31 January 2016.
***PLEASE NOTE THAT LMWSZ WILL NOT BE RUNNING A BBQ, SO PLEASE BYO FOOD, DRINKS ETC***
Entries for the upcoming series day will be due by Wednesday 27 January, please send to srqentries@hotmail.com
Entry forms, format and info can be found by heading to the Forms page on this site.
DECEMBER SERIES DAY SRQ
Big thanks to Andy from Dynamic Excavation for offering to be the sponsor for this next series day, check out their website at
http://www.dynamicexcavations.com.au/
Dynamic Excavations offers a diversity of equipment and services, and our friendly staff will happily match the right machine for your job.
Our services include:
Excavation
Trenching
Potholing
Locations
Footings
Pier Holes
2016 AUSTRALIAN TITLES - BUNDABERG
Race schedule and entry forms are now available!! Click onto the tab for 2016 Australian Titles at the top of this page to see all of the Nationals information.
We hope to see you all in Bundy in January!
VALE JED COEY
I write this in sadness for we have lost a mate and a true champion on and off the water. Jed Coey, you were a shining light to everyone involved with SRQ, always willing to help and amuse everyone with your wit and happy demeanour. Not only were you an extremely talented skier, you were a role model to young up and comers in the sport.
To Kellie, Zain and Baby Coey, our hearts and souls go out to you at this time. Know that we are all here to help at any time that you may need it and always will be.
May you rest in peace Jed Coey, forever a friend and mate.
Kellie and her family would like advise everyone that a celebration of Jed's life will be held at the Gold Coast Turf Club on Friday, 16 October at 12.30pm (QLD Time). Please park in the members car park off Racecourse Drive. The family have said that they would love to see everyone in bright, smart casual attire. Refreshments and a cash bar will be available also.
It would be great if all SRQ members are able to attend to say farewell.
A fundraiser has been set up for Kellie and her children, anything you can give to help is much appreciated.
Please click here for more information
Thankyou
Darren Apps
President
SRQ
SRQ SERIES DAY 2 - 13 SEPTEMBER 2015
A big thanks again to the Lake Moogerah Water Ski Zone for allowing us to race once again this coming weekend. Steve Rigby and his crew of helpers will be running the canteen so please make sure you say G'day and support the Zone.
Gerry Gulley of East Coast Truck and Bus Sales has generously sponsored the SRA levy for this Sunday's race so please be sure to thank him when you see him on the bank and check out their website at:
http://www.eastcoasttrucks.com.au/
Many thanks Gerry and his team
2016 AUSTRALIAN TITLES - CALL FOR VOLUNTEERS
SRQ is looking for volunteers to get involved and assist on the 2016 Nationals sub-committee that is being formed at the next SRQ meeting on 16 September 2015. Meeting will commence at 6.30pm at East Coast Commercials. You can also register your interest with Michael Souwer if you aren't able to attend on Wednesday.
14 AUGUST 2015 - UPDATE FOR THIS WEEKEND'S SERIES RACE
SRQ would like to give a big thanks to our hosts for this coming weekend, the Lake Moogerah Water Ski Zone. The guys will have the BBQ running all day Sunday so please go up and say hi and show your support.
Cheapa Auto Spares Mudgeeraba have very generously offered to sponsor the SRA competitor levy for this Sunday's race. Make sure you give Pete Thompson a thankyou when you see him on the weekend and check out their website for all of your auto, truck and inboard boat part needs. Thanks Tommo!
Cheapa Auto Spares Mudgeeraba - click here
Please also don't forget to fill out your SRQ membership form details and see Deb Oppermann to pay your administration fee on Sunday morning prior to racing. Everything you need to download is in the Forms tab on this page.
COMMENCEMENT OF SEASON 2015/16
All the forms you will need for the series day format, entries, membership details etc can be found on the forms page of the website. The calender page has now also been updated with the finalised venue information.
Please take note of the $15 SRA competitor levy to be paid at each event and also when the 1 designated fuel break is scheduled for.
The list of the new committee members elected at the recent SRQ AGM can be found on the contacts page.
The committee look forward to seeing you at the SRQ events this season.
2016 AUSTRALIAN TITLES - 6-10 JANUARY 2016, BUNDABERG
Ski Racing Queensland, in partnership with the Sandy Hook Ski Club will be hosting the 2016 Australian Titles.
Please see the 2016 Nationals tab on this website. This page will be updated with information about the event as it comes to hand.

2015 QUEENSLAND TITLES
What a fantastic weekend of racing at Bundy for our state titles. Despite the numbers being down a bit this year, it didn't stop the racing being exciting and SRQ definitely showed our interstate guests what they are made of. Some of the classes were particularly down to the wire, with us at the officials tent checking lap splits continuously to see how the positions stood. Turns out that El Presidento Mick is far quicker at the calculations than I am!!
Our weekend was incident free, only a couple of little wrist slaps for some eager drivers and maybe some new undies needed for the Quick Decision crew!
Our perpetual trophies for the Eloise Anderson Open Women's cup and the Wayne Mawer Open Men's cup will see 2 new names on them this year, congratulations to Shantelle King and Ben Gulley on their wins.
As we all know, there are many people that give their time and dedication to make events like this happen.
I would like to give a huge thanks to all of the following:
Our generous class sponsors for their support:
The Bolt Place - Bundaberg
Loose Unit Industries
Oppermanns Mechanical
Wide Bay Pest Management
Concept Tiles Bundaberg
Christensen Industries
SP Tools
Terry Aslett Smash Repairs
RMD Fabrications
Patto the Tiler


and also to Bundaberg Marineland who provide the course boats etc for the weekend,
To the committee and members of the Sandy Hook Ski Club for all of the assistance they provided with helping to arrange the weekend, setting and pulling in the course, being course boat crews all weekend, putting on the canteen, the bar and dinner on Sunday night. We are very appreciative of your ongoing assistance and hospitality when we come to Bundy. I would also like to particularly thank Col Patto and Michelle Dick who put in a ton of work for this weekend. Michelle, as usual the Sunday night meal was amazing.
To all of our crews who supported the event, and a special mention to those who travelled from interstate: Brian, Kris, Jake, Ray, Shantelle, James and also the Gale Force team from Grafton. To the North Qld/Cairns teams who made the big drive down , we thank you also for making the trip down to race with us.
In race control, thanks to:
Mr S - our race controller
Patto - our safety officer
Terry Souwer - start boat and to Karen also
Paul Bennett - for being our commentator on Saturday
Mick Kelly- commentary on Sunday and all of his work on social media etc and for doing the trophy presentation, scrutineering and generally making sure everything was running smoothly
Gaynor Smidt, Helen Stone and Cindy Pollitt for assisting with timekeeping both days
and to everyone else who lent a hand over the weekend.
To see the full results, click here
Thanks again everyone,
Peta
LATEST UPDATES:
Plenty happening as we head towards the end of the season!
Qld Titles entries
Entries are due by next Friday, please send them in ASAP!! All details are on the SRQ Website under the form's section. Any questions, feel free to get in touch with us.
Qld Titles Sunday night Presentation
Please ensure that you RSVP and pay to Michelle Dick. Information about the cost etc are also found on our website with the rest of the Titles information.
Rope lengths at Qld Titles
After consultation with the race commitee and safety officer for the Titles, the SRQ committee has put in place a rope length limit to ensure smooth, safe racing. The limit will be 270 feet and will be measured in the same manner as social ropes, which means full rope including handles to be within this limit.
Sponsorship opportunities
Once again with our biggest race weekend of the year, comes the opportunity for SRQ to promote the businesses that support our racing. Being in Bundaberg, we will once again have regional tv coverage over the weekend, as well as program and interweb style promotion through FB, the website and twitter. While we are hesitant to ask our members to dip into their own pockets once again, many of you have strong ties through business (and pleasure?) with many businesses that would be a good fit for promotion to our followers. If you feel that you could assist us in the gaining of sponsorship for this event, or point us in the right direction, please don?t hesitate to give us a yell, or point them/us in their direction, it would be muchly appreciated. Information attached about packages available.
Qld Series presentation - Save the Date!
The date selected for this year's presentation is Saturday 4 July. We are currently in discussions with a few venues so the finalised plan will be advised to members as soon as possible.
Final Series day 14/15 Season - Moogerah Dam, 17 May. Entries due on Monday 11 May
Qld Titles - 6/7 June, entries are now open and all of the information can be found on the Forms page. Entries are due by Friday 22 May.
WORLD CHAMPIONSHIPS WRAP UP
The Australian team took the win in all 6 classes at the Worlds last week. A true credit to the dedication, preparation and committment of our skiers, drivers, observers and their helpers.
The Qld team of Merc Force/Strike Force F2 had a very successful campaign with Ben Gulley locking in the Men's F2 title for the second time after also winning in 2013 at Teneriffe. His crew were fellow Qld members Glenn Campbell (driver) and Justin Pick (observer).
Kylee Jones secured 6th place in the Open Women's category. She competed behind Qld boat Merc Force driven by Don Gulley and observer Grant Patterson. It is a real credit to Kylee's dedication and talent to watch her consistently be selected to represent Australia in the women's team at several world championships in a row now.
Judging from the photos of the water conditions in Wellington, I'm sure the many hours of training in Moreton Bay were valuable to their race preparation.
Congratulations to the team and also their pit crews and families, what a great team effort!
For full results head to:
2015 QUEENSLAND STATE TITLES
Stay tuned, all of the entry information coming very soon!
UPDATE - 13 JANUARY 2015
VALE - Barbara Osborne
The committee and members of Ski Racing Queensland were saddened to hear of the passing of Barbara Osborne, one of the long time judges of Ski Racing. Barb was part of the judging team when SRQ hosted the World Championships at Redcliffe in 2011 and also the first selection races at Moogerah in September 2014 and we appreciated her assistance and guidance. She will be very missed in the ski racing community.
Our thoughts are with Marty and the rest of her family at this sad time.
UPDATE - 21 DECEMBER 2014
Cliff Bamford, the 2015 Australian Worlds Team Captain has asked us to pass on the following information regarding the upcoming World Championships:
Accommodation and vehicle hire information - click here
Australian Team Newsletter 1 - click here